Projektit | Projects
Katso alta työnäytteitämme | See below for samples of our work
Palvelut | Services
Mitä me teemme | What we do

Camera Rental
Our main intention is to provide an affordable alternative especially for artists and art related rental needs. As an artist you're likely to get the most affordable deal from us.
Blogi | Blog
Lue uusimmat uutiset | Read the latest news from us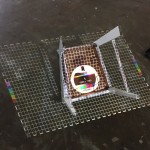 We are start using Millumin projection mapping software some of our project, like today Niran Baibulat exhibition in Muu Kaapeli. Here is some photos of installation. Exhibition will be open tomorrow!
Suositukset | Testimonials
Mitä asiakkaamme ovat sanoneet | What our customers have said
"Extremely recommendable. Great professionals. A pleasure to work with them."

- Anna Estarriola

"Suosittelen lämpimästi av-alan taiteilijoille. Taitavia ja lempeänkärsivällisiä tyyppejä + kustannustehokasta toimintaa."

- Martta Tuomaala (marttatuomaala.com)

"I am very satisfied of the way how Ikahu installed my work at the finnish museum of photography, helping me to renew the hanging of a video installation that was originally thought in a different way. I recommend them for their efficiency, ingeniousness and kindness !"

- Dorothée Smith (dorotheesmith.net)

"Ikahu suhtautui projektiini kuin omaansa. Oli ilo työskennellä ihmisten kanssa joiden ammattitaitoon ja näkemykseen voi täysin luottaa. Suosittelen!"

- Kalle Nio (kallenio.tumblr.com)

"suosittelen!!!!!!!!!! 10 pointsssss"

- Juhana Moisander (juhanamoisander.com)

"I'm so happy to meet the Ikahu guys, the way they installed the work was very nice and very professional. So I think from now on I will stick with them."

- Adel Abidin (adelabidin.com)